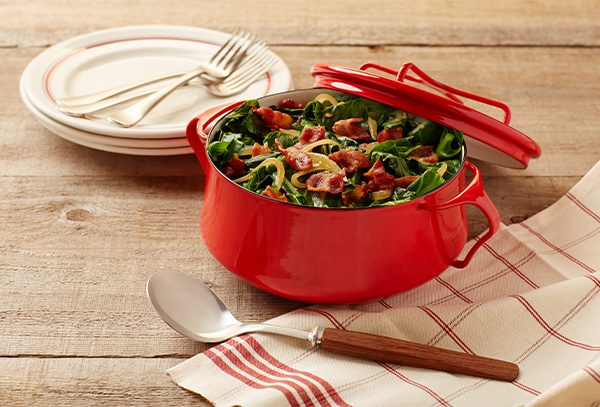 1375g pkg Maple Leaf® Original bacon, diced
2bunches collard greens, woody ends and thick veins removed – cleaned and roughly chopped
1large onion, thinly sliced
1tbsp garlic, minced
2cup chicken broth
1 ½tsp apple cider vinegar
Freshly ground pepper
Hot pepper sauce – to taste, optional
Place bacon in a large deep nonstick skillet with tight fitting lid or a Dutch oven.
Cook bacon over medium high heat stirring for about 3 to 4 minutes until just starting to turn golden brown. Add onions and cook for 2 minutes more. Add garlic and cook for an additional minute. Add collard greens and combine with bacon mixture and allow to wilt for 2 to 3 minutes. Pour chicken broth and apple cider vinegar into mixture and stir well. Cover and reduce heat to low and allow to simmer for about 1 to 1 ½ hours.
Season with fresh ground pepper and add hot sauce to taste if using.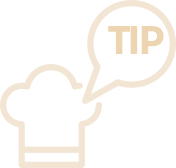 This makes for a wonderful savory and luxurious side dish to your holiday table. Easily clean your collard greens by plunging leaves into a large bowl filled with cold water. Swirl around to loosen any debris. Allow to stand for about 10 minutes to let debris fall to the bottom. Carefully lift leaves out onto paper towel – don't disturb the water as it will redistribute onto the leaves. Fold leaves in half and cut along the vein to remove from leaf. Roughly chop and you are done!
Don't miss
Start a conversation with your family about climate change