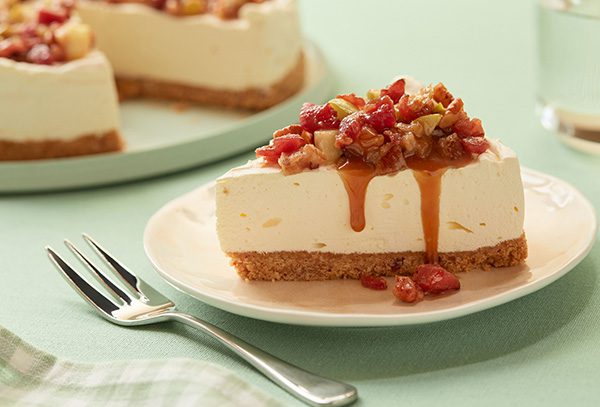 185g pkg Maple Leaf® Ready Crisp® Bacon bits, divided
1 ¼cup graham cracker crumbs
¼ + 1tbsp butter, melted
18oz pkg cream cheese, softened
1/3cup sugar
1liter container whipped topping, prepared
2medium granny smith apples, small dice
½cup caramel sauce, prepared
1cup toasted walnuts, chopped
1cup toasted pecans, chopped
In the base of a 9" springform pan add graham crumbs, bacon and butter.
Mix well to combine.
Using your fingers or the bottom of a glass firmly press crumbs evenly to base of pan. Set aside.
Using a hand mixture blend cream cheese and sugar on high until whipped and soft. About 1 to 2 minutes, scrapping down sides of bowl as you go.
Using a rubber spatula fold in whipped topping until combined.
Spoon mixture into prepared pan and smooth out the top. Cover with cling wrap and refrigerate for 3 hours or overnight for best results.

Topping:
Heat remaining tbsp of butter over medium heat in a large nonstick skillet.
Add apples and stir continuously for about 1 to 2 minutes.
Add remaining bacon and cook for 30 seconds more.
Add caramel and nuts and stir to combine.
Allow mixture to completely cool.
Chill in refrigerator.
Once completely chilled you can spoon evenly over prepared cheesecake and continue to allow cheesecake to set up for the suggested time OR you can spoon topping over sliced cheesecake when ready to serve.
Don't miss
Start a conversation with your family about climate change