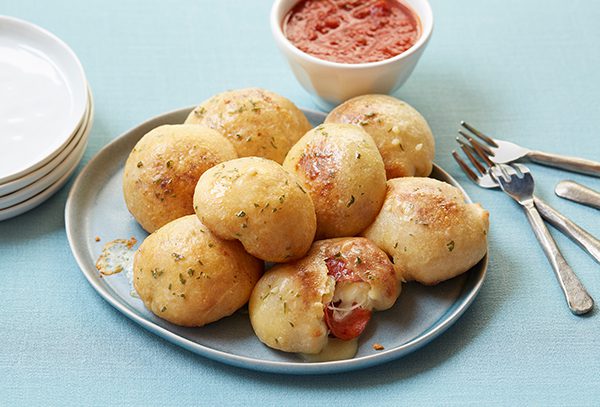 40pieces Maple Leaf® Natural Selections® Pizza Pepperoni, halved
1391g tube prepared pizza crust
2cups pizza mozzarella, shredded
⅓cup garlic spread, prepared and melted
Cooking spray
Prepared pizza sauce or marinara sauce for dipping- optional 
Preheat oven to 425°F.
Lightly spray a baking sheet with oil.
Heat a large skillet over medium heat and lightly fry pepperoni for about 2 to 3 minutes until just starting to brown and crisp. Remove from heat and set aside.
Unroll dough onto prepared baking sheet. Using a pizza wheel or sharp paring knife cut dough horizontally and then lengthwise into 7 equal rectangle strips.
Divide cheese and place over each strip of dough followed by pepperoni.
Roll each strip into a ball and cinch the sides tightly while using your fingers to push in any ingredients that may be falling out.
Pull cinch downwards to create a ball and place seam side down on baking sheet. Repeat with remaining ingredients.
Brush each ball with garlic butter.
Bake for 8 to 10 minutes on middle rack of oven. Set oven to broil for an additional 1 to 2 minutes for a golden top.
Once out of the oven immediately brush with remaining melted garlic butter. Serve immediately with marinara sauce if using.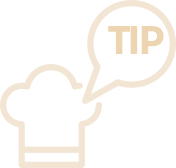 Try using your favorite Maple Leaf product such as Maple Leaf® Ready Crisp® bacon or Natural Diced Ham!
Don't miss
Start a conversation with your family about climate change