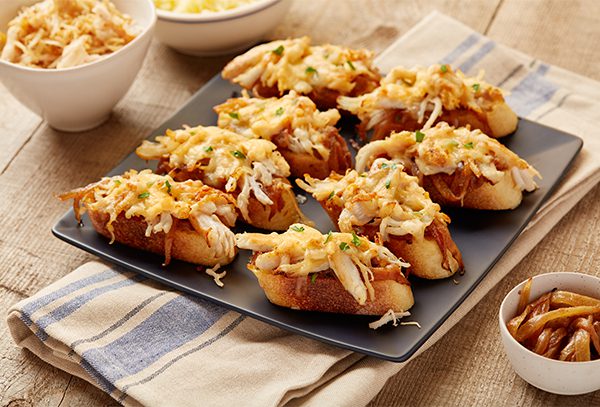 1250 gr pkg Maple Leaf Natural Shredded Chicken
2medium to large Spanish or Yellow Cooking Onion, thinly sliced
2 ½tbsp butter
1small dry bay leaf
1sprig fresh thyme
1 ½tbsp cooking sherry
1cup swiss cheese, grated
14 to 16slices French baguette or ciabatta, sliced ¾ inch think on the bias
Garlic butter, prepared
Salt
Pepper
Fresh parsley
Preheat oven to 400°F and prepare a baking sheet lined with parchment paper.
Heat butter over low heat in a large non-stick skillet. Add onions, bay leaf and thyme. Cook on low to medium heat for 30 to 40 minutes stirring often until deep golden brown and caramelized. Add cooking sherry and season with salt and pepper and cook for 1 to 2 minutes longer. Discard bay leaf and thyme and place onions into a bowl and set aside.
Set same pan to medium-high heat and add chicken, break up the larger pieces with the back of a wooden spoon or spatula. Cook on high for 1 to 2 minutes stirring frequently until chicken is just starting to brown and crisp. Add a little butter or oil if pan is too dry.
Spread garlic butter on top of each slice of bread and place on to prepared baking sheet.
Divide and spoon onion mixture onto each slice of bread followed by chicken over top. In a small bowl mix together cheeses and sprinkle evenly over top.
Place tray onto center rack of oven for about 5 minutes or until cheese has melted and crostini has warmed through.
Set oven to low broil and cook for 1 to 2 minutes longer until golden and bubbling. Remove from oven and garnish with parsley. Serve immediately.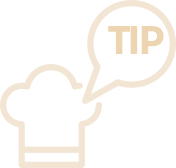 You can make the onions 1 to 2 days in advance and keep in an airtight container in the refrigerator until ready to use. Try using Maple Leaf Natural Shredded Turkey for a festive change during the holidays!
Don't miss
Start a conversation with your family about climate change