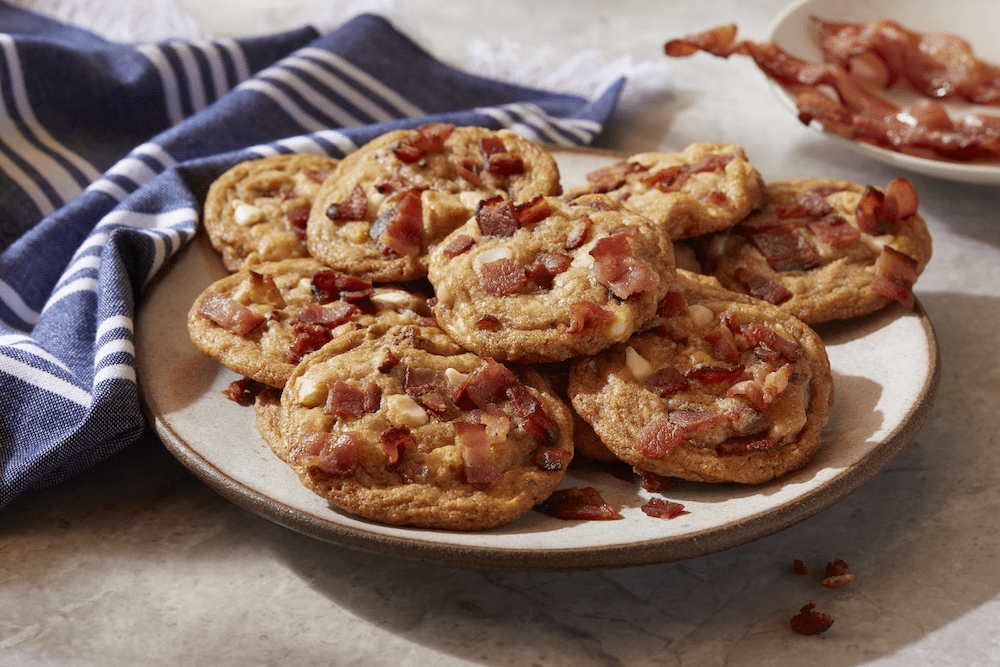 ½cup unsalted butter, room temperature
½cup brown sugar
¼cup white sugar
1tablespoon Maple Syrup
1 egg
½teaspoon vanilla extract
1cup All Purpose Flour
½teaspoon baking soda
½teaspoon salt
½cup white chocolate chips
½cup macadamia nuts, roughly chopped
4slices Maple Leaf® Lazy Maple natural bacon, diced, cooked until golden and drained
Preheat oven to 350 F
Line 2 baking sheet with parchment paper.
In a small bowl mix together flour, baking soda and salt, reserve.
Using an electric mixer with the paddle attachment, cream the butter and both sugars together until light and fluffy, about 5 minutes.
Mix in the egg on low speed until incorporated.
Scrap down the sides of the mixing bowl.
Add the maple syrup and vanilla and mix to combine.
On low speed add the dry ingredients and mix until everything is incorporated.
Finally, add the bacon, chocolate chips and nuts and mix until everything is evenly distributed in the dough.
Using a Tablespoon, scoop a heaping spoonful of dough onto a baking sheet and repeat until batter is gone.
Bake for 8 to 10 minutes on the centre rack of the oven until the edges of the cookies are golden brown.
Let cool for 10 minutes before eating.
Don't miss
Start a conversation with your family about climate change