1(375g pkg) Maple Leaf® Natural Original Smoked Sausage, diced
4slices Maple Leaf® Original Natural Bacon, diced
½cup cauliflower
¼cup oats – finely ground
3medium eggs
½cup cheddar cheese, shredded
Salt & Pepper
Preheat the grill to 350°F.
Grease a 12-cup muffin pan with non-stick cooking spray.
Cook diced sausage and bacon in a skillet over medium-high heat. Drain the fat and set aside to cool slightly.
In a large mixing bowl, lightly beat the eggs. Add the cheese, cauliflower, oats, and fully cooked bacon and sausage. Mix until combined.
Fill the prepared muffin cups about ¾ full. Bake for 15 minutes, or until golden brown.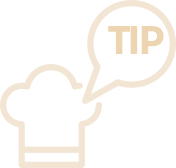 Want to kick up the flavours? Try these tips!

Once baked, sprinkle with additional cheddar cheese for an extra cheesy flavour!

Add Maple Leaf® Natural Selections® Oven Roasted Turkey Breast, diced, to the egg mixture before pouring into the muffin tray.

Add spring onions
Don't miss
Start a conversation with your family about climate change