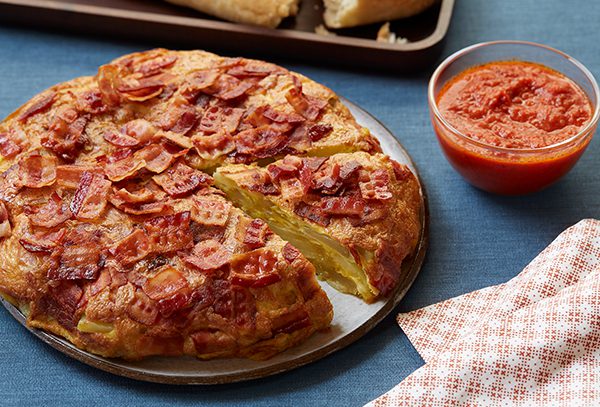 165g pkg Maple Leaf® Ready Crisp® bacon, diced
2cups good quality Spanish olive oil or Olive oil
1large onion, thinly sliced
5medium Yukon gold potatoes, peeled and rinsed
8eggs, whisked into a large bowl
Salt
Heat oil in a 10-inch cast iron skillet or a deep nonstick skillet over low heat. Oil should be gently shimmering when ready.
Slice potatoes lengthwise and then thinly into half-moons.
Carefully add potatoes and onions into the oil and stir to coat. Pan will look crowded, this is normal. Allow to cook for about 25 minutes stirring occasionally. Potatoes and onions should appear "melty" and with no browning and soft when pierced with a fork.
Drain over a fine mesh sieve into a heat resistant bowl. Set oil aside and allow to cool completely.
Wipe skillet with a paper towel and add 3 tbsp of reserved oil back into skillet.
Sprinkle bacon evenly onto base of skillet over medium heat. Add potato and onion mixture to eggs and generously season with salt. Carefully pour or spoon potato and onion back into skillet.
Vigorously shake and swirl skillet over medium heat until bottom and sides begin to set, about 3 to 4 minutes. Using a heat proof spatula start to press the edges inward to create a puck shape. Continue to cook adjusting the heat lower to prevent bottom of tortilla from burning. Allow formed edges to set, about 3 to 4 minutes longer.
Over the sink or countertop place a large platter over skillet and in one quick motion invert tortilla over top.
Slide tortilla back into pan and cook for about 3 to 4 minutes more and using your spatula continue to push edges in to reinforce the shape. Tortilla should be lightly browned but slightly tender in the center when pressed with you fingers.
Remove onto serving platter and allow to cool before slicing. Slice into wedges and serve with warmed tomato sauce and fresh bread.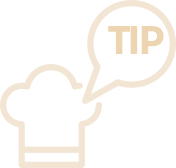 Reserve seasoned oil for future use! This is infused oil! Keep in an airtight bottle or container after fully cooling and use in your favorite recipes. Leftover infused oil has a mild buttery caramelized onion flavor. Great to reuse in salad dressing.
Don't miss
Start a conversation with your family about climate change