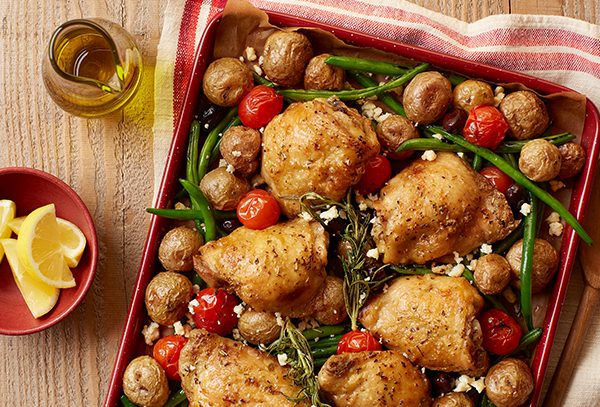 Preheat oven to 425˚F.
Line a large baking sheet with parchment paper.
Place potatoes, green beans and olives in a large bowl.
In a separate bowl combine lemon juice, olive oil and seasonings. Whisk well.
Pour all the marinade except for a heaping tbsp over the vegetables and toss well to coat.
Place vegetables onto prepared baking sheet. Nestle chicken around the vegetable.
Drizzle remaining marinade over each piece of chicken. Bake for 35 minutes.
Remove tray from oven and add cherry tomatoes and sprinkle feta over top. Bake for about 10 minutes longer.
Set oven to broil for an additional 2 minutes to brown the feta until golden. Serve immediately.
Don't miss
Start a conversation with your family about climate change