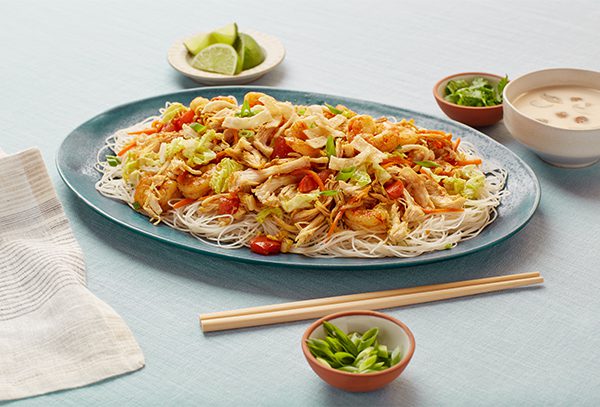 1250g pkg Maple Leaf® Natural Shredded Chicken
480gshrimp, tails removed
450grice noodles, prepared and warmed
1tbsp vegetable oil
1medium shallot, thinly sliced
1tbsp garlic, minced
2medium tomatoes, diced
1cup carrot, shredded
1 ½cup cabbage, thinly sliced
1tbsp sesame oil
2tbsp cilantro, minced
¼cup green onion, sliced + extra for garnish
Lime, cut into quarters
Crispy wontons, prepared – optional


Sauce:

1tbsp rice vinegar
2tbsp mild yellow curry powder
⅛tsp turmeric
2tbsp light soya sauce
½cup oyster sauce
1tbsp sriracha sauce
In a large bowl mix vinegar with curry powder and turmeric until combined. Add soya sauce, oyster sauce and sriracha. Mix well and set aside.
Heat vegetable oil in a large nonstick skillet over high heat. Add chicken and shrimp and allow to sear for about 2 to 3 minutes. Chicken and Shrimp should be browning and golden. Add shallot and garlic and stir frequently for about 1 to 2 minutes. Add tomatoes, carrot and cabbage. Cook for about another 3 minutes stirring occasionally. Pour in sauce and stir well to coat. Let simmer for about 3 to 4 minutes.
Meanwhile in a large microwave bowl toss rice noodles with sesame oil, cilantro and green onion.
Heat in microwave to desired temperature. Place noodles onto a serving dish and spoon chicken and shrimp mixture over top. Squeeze with lime and sprinkle extra green onion over top. Garnish with crispy wontons. Serve immediately.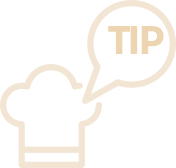 Batch it up! Double the ingredients to serve a large family. Switch it up – try using Maple Leaf Natural shredded turkey.
Don't miss
Start a conversation with your family about climate change