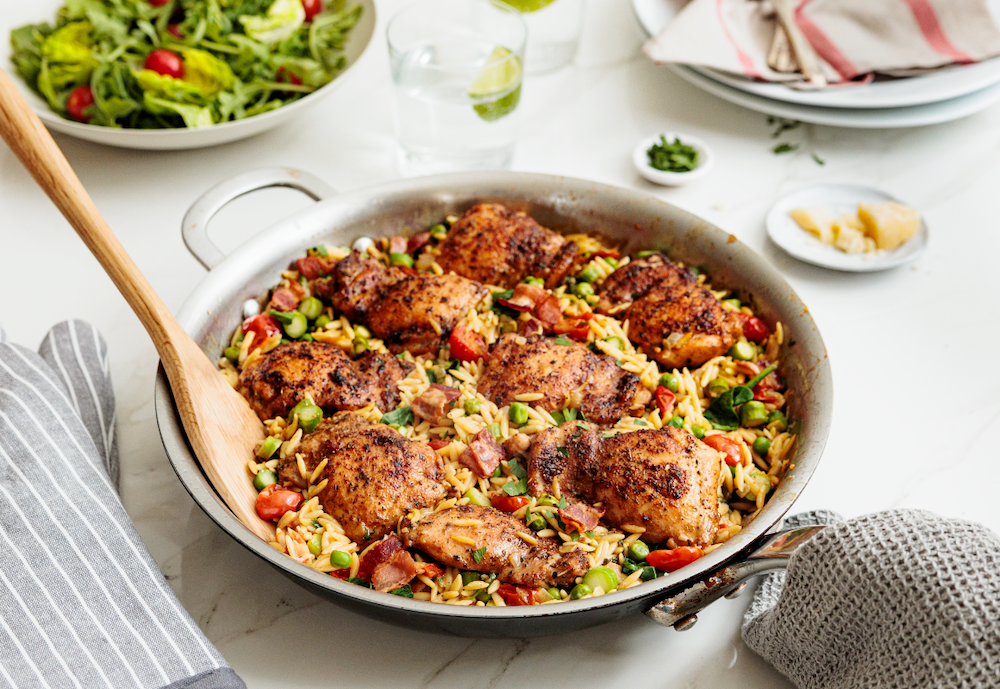 5slices Maple Leaf® Natural Bacon, cut into 1/2" pieces
8Maple Leaf Prime® Raised Without Antibiotics boneless, skinless chicken thighs
1onion, diced
1large clove of garlic, finely chopped
2tbsp olive oil
1cup orzo pasta
1cup cherry tomatoes, halved
2cups low sodium chicken stock
½cup white wine
5spears asparagus, cut into ¼" rounds
½cup sweet peas, fresh or frozen
1cup baby spinach
¼cup Parmesan cheese, grated
½cup 35% cream
¼cup Italian parsley, roughly chopped
1tbsp lemon juice
Salt and pepper
Chicken Rub:
1tsp garlic powder
1tsp Spanish paprika
1tsp dried oregano
1tsp kosher salt
½tsp black pepper
½tsp chili flakes, optional
Preheat oven to 400 F.
In a small bowl, combine all the chicken rub ingredients and mix.
Lay out the chicken thighs on a baking sheet and evenly sprinkle the rub on both sides of the chicken. Let sit for 10 minutes.
While the chicken is marinating, place a large sauté pan on medium heat and add the bacon. Cook the bacon until golden in colour. Remove bacon from the pan and set aside. Pour bacon fat into a small bowl and set aside as well.
Return the pan back to stove top on medium heat and add half the olive oil and 4 chicken thighs. Cook for 2 to 3 minutes until golden in colour, then flip and continue to cook another 2 to 3 minutes. Remove the chicken from the pan and repeat with the remaining oil and other 4 chicken thighs.
Using the same pan on low heat (no need to clean the pan) add 1 Tbsp of bacon fat, onions, and garlic and cook for a few minutes until the onions are soft.
Stir in the orzo and toast for 2 minutes.
Deglaze the pan with the wine and let reduce for 1 minute. Add the chicken stock, cream, cherry tomatoes, and spinach and bring pan up to a boil.
Place the chicken into the orzo. The chicken should almost be completely covered with the orzo mixture.
Place the pan into the oven on the middle rack and cook for 20 minutes until the chicken thighs have reached 165 F with a meat thermometer.
Remove the chicken from the pan.
To finish the orzo, add the asparagus, peas, parsley, and Parmesan cheese. Stir together and then add the lemon juice. Adjust the seasoning with salt and pepper as needed.
To serve, spoon some orzo in a bowl and top with a couple pieces of chicken.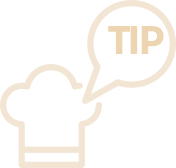 Serve with a big green salad.
Don't miss
Start a conversation with your family about climate change