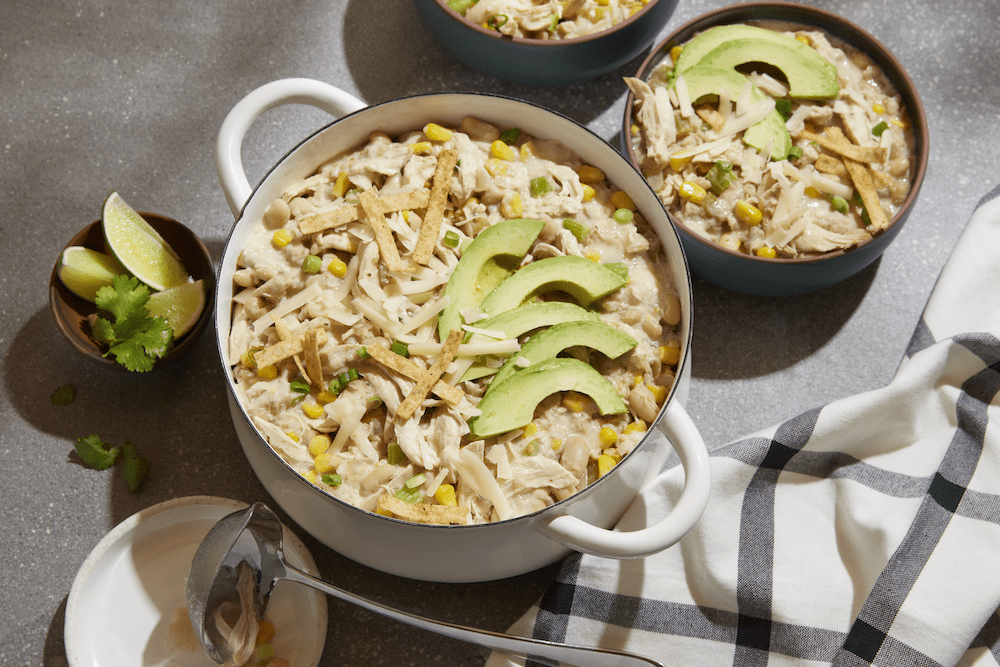 2tbsp unsalted butter
1 onion, diced
1celery rib, diced
2cloves garlic, finely chopped
1(19 oz) can white kidney beans, drained and
rinsed
1(19 oz) can navy beans, drained and rinsed
1(4 oz) can mild, diced green chilies
1cup frozen corn kernels
1tbsp kosher salt
1tsp cumin
½tsp paprika
5cups low sodium chicken stock
1tsp dried oregano
¼tsp chili powder
¼tsp ground black pepper
¾cup sour cream
¾cup 35% cream
Lime juice to taste
¼cilantro, roughly chopped (optional)
avocado
shredded cheddar cheese
tortilla crisps
lime wedges
Place a Dutch oven on low heat and add the butter until it begins to froth.
Add the celery and onion and cook for 2 to 3 minutes until soft. Add the garlic and cook for another 30 seconds until fragrant.
Add the oregano, paprika, chili powder, cumin, salt, pepper and diced chilies.
Stir together and add the chicken stock and beans, reserving 1 cup.
Turn heat to high then lower to a gentle simmer and cook for 10 minutes.
Add the chicken breasts and continue to cook for 25 minutes adjusting the heat to maintain a gentle simmer.
Remove the chicken breasts from the pot and place on a plate to let cool. Once cool enough to handle, use 2 forks or your hands and shred the chicken.
Place the reserved beans and 1 cup of the cooking liquid in a blender and blend until almost smooth.
Return the blended beans to the pot along with the corn kernels, shredded chicken, sour cream and cream.
Stir everything together and return to a simmer for another 10 to 15 minutes until the chili has thicken slightly. Stir in cilantro (if using).
Let chili sit for 20 minutes before serving.
To serve, ladle chili into bowls and garnish with shredded cheese, avocado, tortilla crisps and lime to your liking.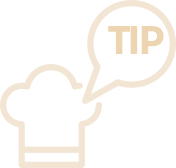 This chili freezes very well. Make a big batch, and freeze, to enjoy for an easy and delicious winter meal.
Don't miss
Start a conversation with your family about climate change