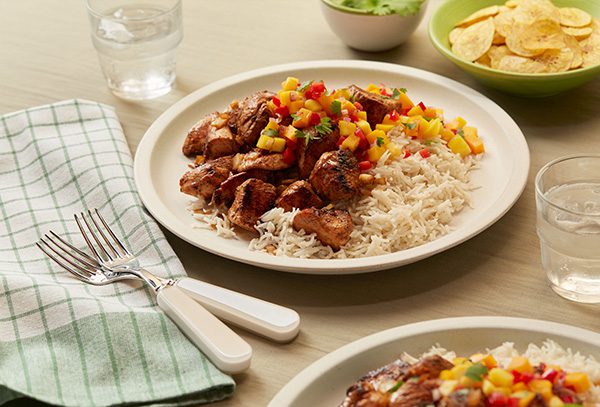 1tbsp vegetable oil onion, diced
3tbsp mild Jerk marinade, prepared
1tbsp ketchup
½tbsp soya sauce
2cloves garlic, minced
Salt
Pepper
Plantain chips or banana chips – optional

Mango Salad:

2large ripe mangos, small dice
½cup red pepper, small dice
3tbsp red onion, minced
Juice 1 lime
½tbsp honey
Salt
Pepper
Cilantro – optional
In a large bowl mix together jerk marinade, ketchup, soya sauce, garlic, salt and pepper.
Add diced chicken and toss well to coat.
Heat oil in a large nonstick skillet over medium high heat.
Cook chicken for 5 to 6 minutes.
Add onions and continue cooking for 3 to 4 minutes longer until onions are softened and chicken has browned and cooked through.

Mango Salad:
In a medium bowl whisk together lime juice, honey and season with salt and pepper.
Add in remaining ingredients and toss well to coat. Stir in cilantro if using.
Serve with chicken over coconut rice and spoon salad over chicken. Garnish with chips if using.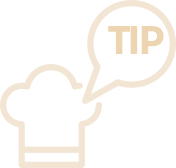 Alternative recipe idea! Make the same marinade. Use 6 Maple Leaf Prime® Raised without Antibiotics boneless skinless chicken thighs. Grill until cooked through. Place thighs on a bun and top with salad and a squeeze of mayo!
Don't miss
Start a conversation with your family about climate change