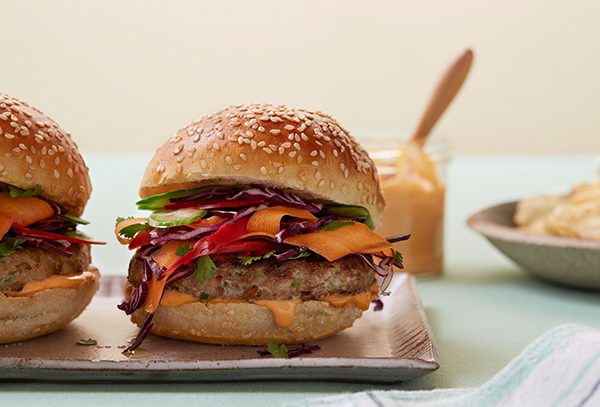 3tbsp chopped shallots
2tsp ginger, minced
1tsp garlic, minced
1tsp soya sauce
½tsp fish sauce
2tbsp thai basil or basil, minced
2tbsp green onion, minced
1tsp sugar
1tbsp jalapeno, seeded and minced
Zest of 1 lime
4sesame seed buns, split and grilled


Rainbow slaw:

½cup purple cabbage, thinly sliced
1cup carrot ribbons
¼of small red pepper, thinly sliced
1tbsp cilantro, minced
1tbsp olive oil
2tsp honey
1 ½tbsp seasoned rice wine vinegar


Spicy Mayo:

8tbsp Mayonnaise
1tbsp sriracha sauce or sambal
Garnish: 4 cucumber ribbons
Preheat grill to medium high heat.
Mix all the ingredients for the burger together.
Hand form them into 4 equal burger patties.
Grill for 4 to 5 minutes per side or until an internal temperature of 165˚F is reached.
Mix mayonnaise and sriracha in a small bowl and set aside.
Meanwhile, in a large bowl combine all the ingredients for the slaw. Toss well to coat. Make slaw just before serving so the cabbage does not bleed into the whole salad discoloring it.
Divide and spread spicy mayo onto the base of each bun followed by chicken burger, slaw, cucumber ribbon and top of bun. Serve immediately.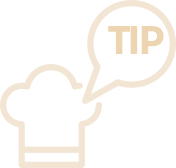 Place burgers in freezer once formed into patties for about 15 minutes. This helps to work with them better as mixture tends to be sticky. 

*Complete the meal – serve with coconut scented jasmine rice or kettle chips.
Don't miss
Start a conversation with your family about climate change