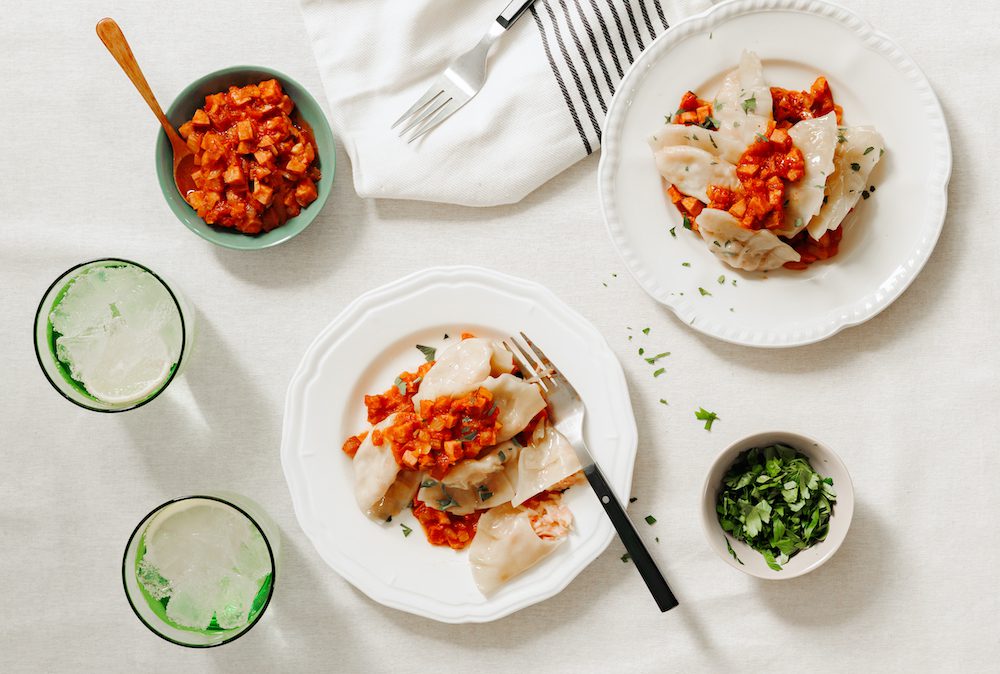 Dumpling Filling

1(175g pkg) Maple Leaf ® Natural Selections® Baked Ham, diced into small pieces
1pkg dumpling dough, prepared
½cup mozzarella cheese, shredded

Meat Sauce

1(375g pkg) Maple Leaf® Natural Original Smoked Sausage
1medium onion, diced
½cup tomato sauce, prepared
1clove garlic, crushed
1tbsp olive oil
Salt and Pepper
Parsley – for garnish
Meat Sauce
Heat olive oil in a pan over medium heat and cook the onions and garlic until just softened, about 3 minutes.
Add sausage to the mixture and break into crumbs. Add tomato sauce and stir frequently for 10 minutes. Season with salt and pepper and remove from heat. Allow to cool slightly.
Dumpling Filling
In a large bowl mix diced ham and cheese together.
Place two teaspoons of the cheese and ham filling in the center of the prepared dumpling circles and fold one side of the dough over the filling to form a half circle. Seal them by pressing the edges together with your fingers or a fork and place on a lightly floured baking sheet. Repeat this process with the remaining dough until all the filling is used.
Bring a large pot of salted water to a boil. Carefully drop the dumplings into the pot and gently stir to prevent them from sticking. Cook for about 4-5 minutes, or until they float to the top.
Remove the cooked dumplings and put them in a colander to drain.
Serve with meat sauce. Garnish with chopped parsley.
Dip – Scoop half a cup of yogurt and mix with finely chopped parsley. Sprinkle with salt and pepper.
Don't miss
Start a conversation with your family about climate change