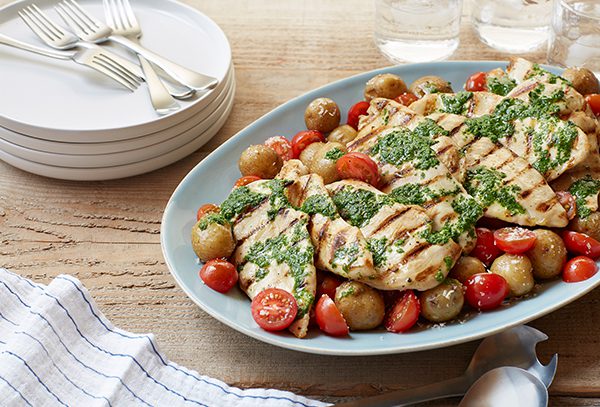 2bunches flat leaf parsley, washed and stems removed*
½lemon, juiced
½cup good quality olive oil + more
3cloves garlic, crushed
1tsp capers
6 – 8large basil leaves, washed
2tbsp white wine vinegar
Crushed red chili – optional
454g baby potatoes, boiled until softened
255g cherry tomatoes, halved
Parmesan cheese, freshly grated
Salt
Pepper
*Makes about 1 1/4 cups of salsa verde
Pre-heat grill to medium high heat.
Place parsley, lemon juice, olive oil, garlic, capers, basil, vinegar and chili pepper (if using) in the base of a food processor. Pulse on high until just combined. Season to taste. Add a little more olive oil if mixture is too firm. Adjust seasoning to your preference.
Using a rubber spatula remove salsa into a container and drizzle a little more olive oil over the top. Cover and allow to sit at room temperature before using.
Lightly season chicken with salt and pepper.
Grill chicken for about 3 minutes per side or until an internal temperature of 165˚F is reached.
Place tomatoes and warm potatoes in a large bowl. Drizzle with a little olive oil and parmesan cheese.
Spoon vegetables onto a large platter. Place chicken over top and spoon salsa verde over the chicken. Serve family style.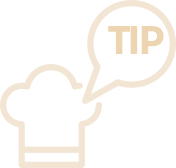 Make the salsa verde ahead so the flavors have time to really meld and mellow. Use as a condiment on pork, chicken burgers, kabobs or even on eggs.

Best served at room temperature – keep any leftovers in an airtight container refrigerated for up to 3 days.
Don't miss
Start a conversation with your family about climate change