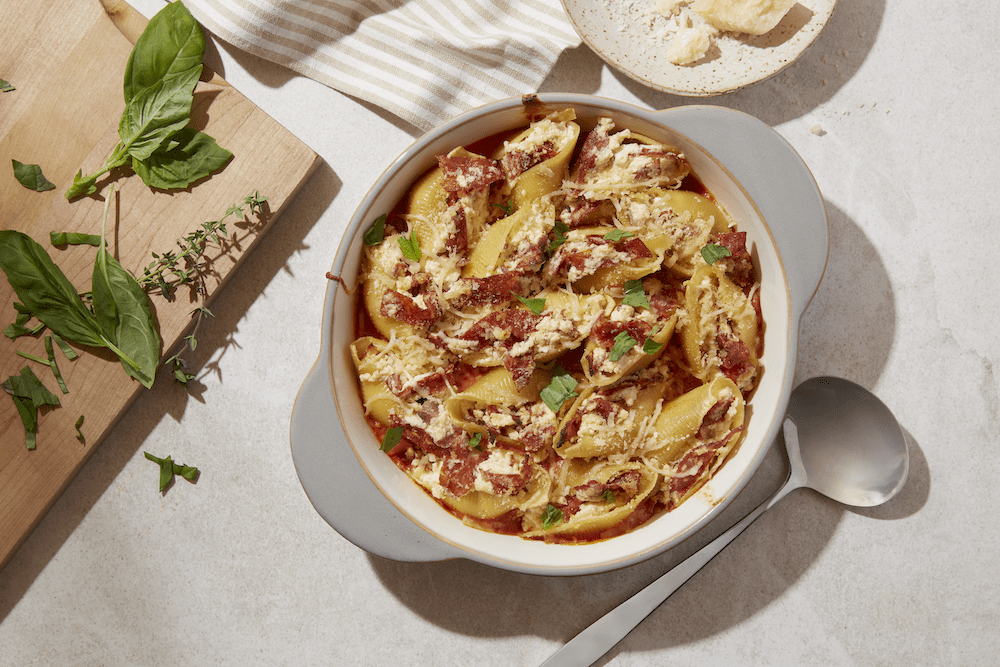 1(150 g) pkg Maple Leaf® Natural Selections Mild Genoa Salami, sliced into ½" strips
200 gLarge Pasta Shells (approx. 18 shells), cooked per packages instructions, cooled
1tbsp olive oil
1small red onion, diced
1garlic clove, finely grated
475 gricotta
¾cup parmesan cheese, divided
1tsp fresh thyme
2tbsp basil, roughly chopped
1(700 g) Jar good quality tomato sauce
½cup 35% cream
Salt and pepper
½cup grated mozzarella cheese
¼cup breadcrumbs
Preheat oven to 375 F.
Place a medium sized pan on low heat and add the oil and onion and cook for 3 to 4 minutes.
Add the salami and continue to cook until the salami is lightly caramelized, approx. 3 minutes.
Stir in the garlic and cook for another 30 seconds until fragrant. Let cool. Remove from pan and roughly chop the mixture on a cutting board.
Combine the ricotta, ¼ cup parmesan cheese, thyme and salami mixture in a medium bowl. Season with salt and pepper to taste.
Mix together the remaining parmesan, mozzarella and breadcrumbs in a small bowl.
In a small pot add the tomato sauce, cream and basil and bring to a boil, cook for 2 to 3 minutes.
In a 9" by 11" baking dish, flood the bottom of the dish with the tomato sauce.
Divide the ricotta mixture amongst the pasta shells and arrange in a single layer in the baking dish.
Sprinkle the cheese and bread crumb mixture over top of the pasta shells.
Place in the oven on the middle rack and bake for 20 to 25 minutes until the cheese has melted and top is lightly golden.
Remove from the oven and let sit for 5 to 10 minutes before serving.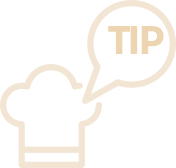 This dish would be great served with some garlic bread and a leafy green salad.
Don't miss
Start a conversation with your family about climate change