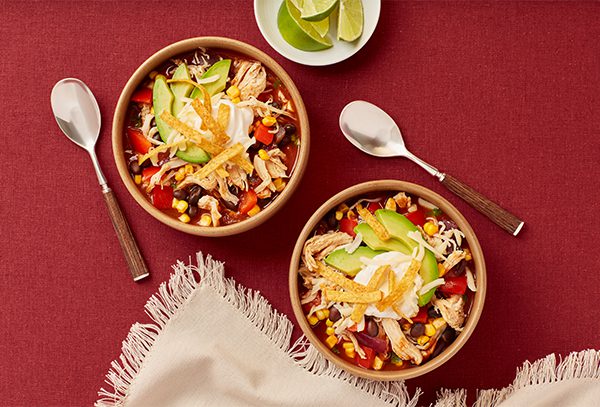 2250g packages Maple Leaf® Natural Shredded Chicken
115oz can black beans, drained and rinsed
115oz can tomatoes, crushed
1red onion, diced
3cloves garlic, finely chopped
1cup corn, fresh or frozen
2red peppers, cored, seeded and diced
½cup fresh coriander, roughly chopped
1tbsp ground cumin
1tbsp ground coriander
1tsp chipotle powder
2tsp kosher salt
1tbsp tomato paste
2cups chicken stock
Shredded Monterey Jack cheese
Sour Cream
Avocado
Lime Wedges
Tortilla crisps
In a large slow cooker add the chicken, beans, tomatoes, tomato paste, onion, peppers, garlic, corn, ground cumin, ground coriander, chipotle powder, chicken stock, salt and pepper. Stir to combine all the ingredients.
Set the slow cooker on low for 6 hours or high for 4 hours and let cook stirring once or twice during that time.
When the stew is finished stir in fresh coriander and adjust the seasoning
To serve, ladle stew into bowls and garnish with slices of avocado, sour cream, cheese, tortilla crisps and lime wedges.
Don't miss
Start a conversation with your family about climate change