Preheat oven to 375°F.
Line a baking sheet with parchment paper.
Unroll dough onto a large cutting board. Separate at perforations creating 4 separate rectangles.
Press diagonal perforations together with your fingers to create 1 seamless sheet.
Using a sharp knife or a pizza wheel, cut each rectangle into 8 to 10 thin strips of dough.
Wrap strips of dough around hot dogs in a "bandage" like fashion leaving a small gap at the top for a "face". Discard any unused dough.
Place dough wrapped hot dogs onto baking sheet and bake on center rack of oven for 13 to 15 minutes. Dough should be golden brown and hot dog should be an internal temperature of 165°F. Remove onto a serving platter.
Place a small amount of mustard into a bowl & using a toothpick, dip into mustard and dot "face" area to create two eyes on each hot dog. Serve with webbed ketchup mustard combo.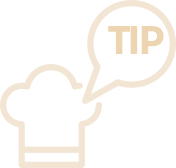 Make them cheese mummy dogs by slicing thin strips of cheese and adhering to hot dog with the dough strips.
Don't miss
Start a conversation with your family about climate change